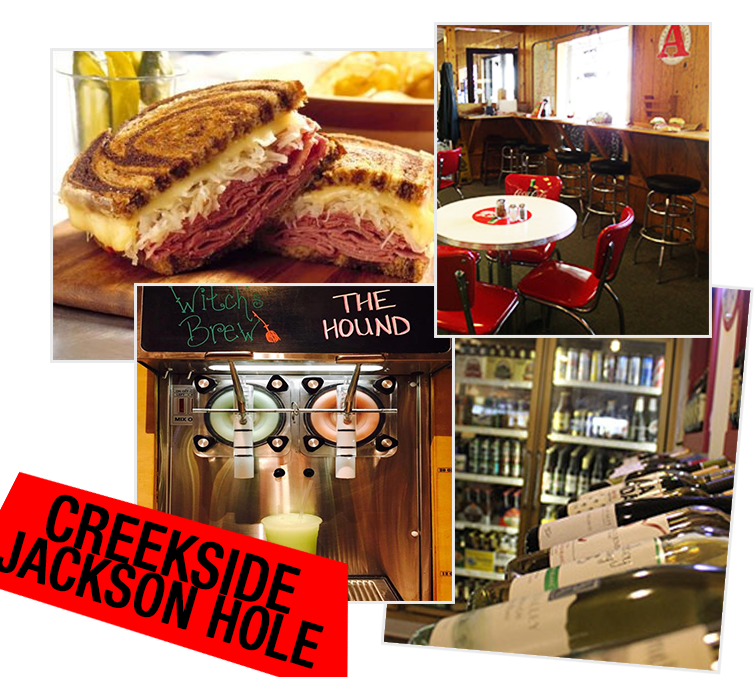 ---
Jackson Hole Deli, Grocery & Liquor Store
---

---
---
COVID-19 Notice
In an attempt to keep everyone safe, Creekside Market will make the following changes...
New store hours will be 7 days/week from 8:00 am to 8:00pm.

No made to order food
No self-serve food
No phone orders
We will continue to sell pre-packaged foods and drinks including breakfast items, salads and favorite sandwiches.
We will maintain our inventory of all grocery, nonfood, and essential items.
Liquor store is open.
Slushie machine is shut down; however, we have made pre-filled and sealed slushies available in the freezer.
We encourage credit card purchases.
And, in related news, our annual Fall Fondue Party has been canceled and the Endless Chocolate Fountain has been removed!
Thanks Everyone!
Give a call if you have any questions. 733-7926
---
<< JACKSON'S ONE STOP SHOP >>
---
Full Service Deli
---
Voted Best Deli Sandwich in Jackson Hole comes with a responsibility to impress! We strive to provide filling and flavorful sandwiches from the freshest ingredients. We also have daily lunch specials from our hot case that make for a quick and easy lunch idea... and they are delicious!
Stay and eat at Creekside at one of our cafe tables and look out over the National Elk Refuge and Sleeping Indian mountain.
---